Philotimo Xinomavro / Cabernet Sauvignon 2015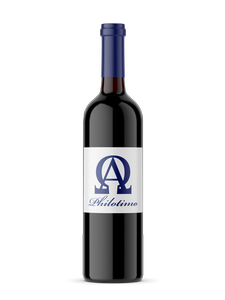 This product can not be shipped to MD
Philotimo is a historic wine with a powerful mystical name. The wine is the idea and creation of Napa Vintner, Importer and Distributor, Gus Kalaris. Philotimo is the first blend of Greek and American wines.
Kalaris produces the highly acclaimed AXIOS Napa Valley Cabernet Sauvignon, which is half of the blend. Kalaris carefully selected the perfect counterpart for this blend through his relationship with Greece's finest Xinomavro producer, Alpha Estate owner Angelos Iatridis. Iatridis agreed to sell several barrels of his best French-oaked Xinomavro for the project.
With perseverance, the wine was bottled in September 2017, under the direction of AXIOS winemaker, Bob Egelhoff. The resulting blend is truly stunning and exhibits the best attributes of both varietals.
The word Philotimo runs deep into the soul of all Greeks. It is the undercurrent which binds Hellenes together; the spirit that has left Greeks and Americans on the right side of history. Literally, Philo means friend, Timo means honor. More deeply, it means love and honor within one's self. To have a sense of duty, courage, personal sacrifice, compassion, empathy, humility, decency, and respect.
Axios Napa Valley and Kalaris Family Vineyards, proudly offers 800 cases of 2015 Philotimo Cabernet/Xinomavro Blend.