Robert Egelhoff ~ Winemaker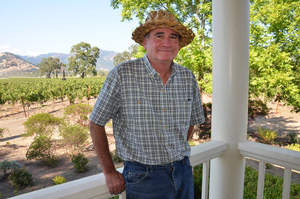 Robert Egelhoff is one of Napa Valley's most sought-after winemakers, with over thirty years of viticultural and winemaking experience. Egelhoff launched his career as vineyard manager for Beckstoffer Vineyards, where he worked for three years. From there he joined Bill Harlan's Merryvale Vineyards, honing his winemaking skills under the tutelage of Bob Levy and consultant Michel Rolland. Further credentials include positions with prestigious wineries including Bella Vista, Amizetta and Robert Craig. In addition he has coordinated production for over three dozen nationally recognized brands. In one of his career highlights, Egelhoff made the Wine Spectator 1997 wine of the year, the Cabernet Sauvignon Elevation 1147, for David Arthur Vineyards, which catapulted him to cult winemaker status. An essential philosophy behind Egelhoff's approach to winemaking is a hands-on involvement in directing vineyard and winemaking practices while closely monitoring the results. For Axios, Egelhoff selects grapes from premium vineyards and oversees all aspects of the winemaking process, a close involvement that is founded on his exacting demands for quality.

Mr. Egelhoff graduated from the University of California, Davis, where he earned a Bachelor of Science degree. He lives in St. Helena with his wife and two children.